The value of CRP in coronavirus diagnostics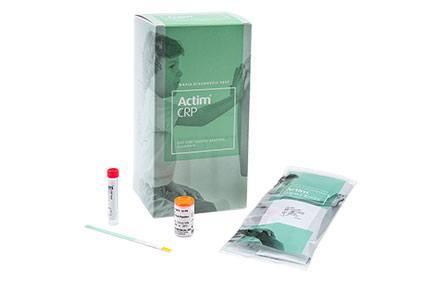 CRP (C-reactive protein) is commonly used to estimate if an infection is viral or bacterial, and typically the levels rises in bacterial infections. However, the latest publications have shown that CRP levels are elevated in COVID-19 patients. The average levels of CRP have been above 20 µg/l and for patents at intensive care unit above 50 µg/l. The combination of careful clinical assessment and serum CRP level measurement offers a way to support the coronavirus diagnostics.
Actim CRP is a semiquantitative rapid test that delivers reliable results in just five minutes on the spot. The cut-off values of the test are ideal: 10–40, 40–80 and >80 mg/l.  The test requires only a small drop of blood and can be used by all medical staff. Read more about Actim CRP.

Reference:
Li, L, Huang, Q, Wang, DC, Ingbar, DH, Wang, X. Acute lung injury in patients with COVID‐19 infection. Clin Transl Med. 2020; 1– 8. https://doi.org/10.1002/ctm2.16